Posts for tag: pediatric dentistry
By Andrew I. Pupkin, D.D.S., P.A.
December 31, 2014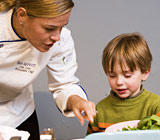 When Cat Cora is not doing battle as the first female chef on the Food Network's hit series Iron Chef America, she is busy caring for the needs of her four active young sons. This includes monitoring the food they eat and their oral hygiene habits.
The busy chef, restaurateur, author, philanthropist and television personality recently revealed in an interview with Dear Doctor magazine that it all started when her four sons were little. She got rid of bottles and sippy cups as soon as possible to prevent tooth decay. She also started exposing her boys to a wide variety of spices and foods when they were infants — for example, by putting cinnamon in their baby cereal. Cat limits the amount of sugar in their diet by using fruit puree in baked goods and BBQ sauces, or the natural sugar substitute Stevia. Furthermore, Cat reports, "my kids have never had fast food."
Cat is right on target with her approach to her children's oral health. In fact, we are often asked, when is the right time to schedule a child's first dental appointment? Our answer surprises some people — especially those expecting their first child.
The ideal time to take your child to the dentist is around age 1. Why so young? A baby's first visit to the dentist sets the stage for lifelong oral health. Besides, tooth decay can start very early. Baby Bottle Tooth Decay (BBTD), as the name suggests, impacts children who often go to sleep sipping a bottle filled with a liquid containing natural or added sugars, such as formula, fruit juice or a fruity drink mix. Another condition, Early Childhood Caries (ECC), is often found in children who continuously use sippy cups (again, filled with sugary liquids), children who breast feed at will throughout the night, children who use a sweetened pacifier, and children who regularly take sugar-based oral medicine to treat chronic illness.
To learn more about this topic, continue reading the Dear Doctor magazine article "Age One Dental Visit." Or you can contact us today to schedule an appointment. And to read the entire interview with Cat Cora, please see the article "Cat Cora."
By Andrew I. Pupkin, D.D.S., P.A.
November 13, 2014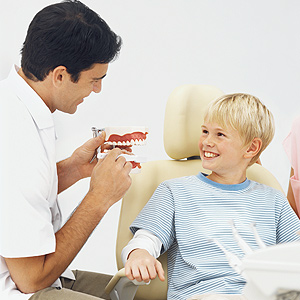 As a parent, the task of guiding your children through their physical, mental and social development can sometimes seem overwhelming. That doesn't have to be the case with their dental development — that's because we're one of your most reliable support partners for oral health. We're available not only to treat problems as they arise, but to also offer expertise and resources that can help you help your children establish life-long oral health.
Here are just a few ways we can help guide you along the path to a brighter dental future for your children:
Age One Dental Visit. A healthy life is built on healthy habits — and there's no better habit for great dental health than regular checkups. We recommend your child's first visit with us around their first birthday. Beginning this early not only helps us identify any emerging dental problems, it can also help the child — and you — become more comfortable with visiting the dentist. As they grow older they'll think nothing of their regular visits in the dentist's chair.
Help! While your child's first teeth coming in are exciting milestones, the teething process can be extremely frustrating. And, when those same primary teeth give way to their permanent versions, you'll develop a new set of concerns about their development. By establishing a long-term trust relationship with us, we can offer a wealth of knowledge and tips (as well as needed reassurance) concerning the various stages of your child's dental development.
"Do as I Do." Dental visits are important — but the greatest contribution to long-term dental care is a daily habit of proper brushing and flossing, which should start as soon as your child's first teeth begin to appear. "Modeling" is the best approach for instilling this habit in your child — performing hygiene tasks together and allowing them to learn how to do it from you. To be sure you're passing on the proper technique, we'll be glad to provide you with instruction on brushing and flossing — for your sake as well as theirs.
Although rewarding, raising a child is a tough job. When it comes to their oral health, though, we can help make that job a little easier.
If you would like more information on building the right foundation for your child's dental health, please contact us or schedule an appointment for a consultation. You can also learn more about this topic by reading the Dear Doctor magazine article "Dentistry & Oral Health for Children."