Posts for: August, 2014
By Andrew I. Pupkin, D.D.S., P.A.
August 20, 2014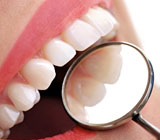 No matter how damaged or decayed your teeth may have become, there's a restorative solution for it. From porcelain veneers that cover unattractive teeth to dental implants that permanently replace missing teeth, we have the means to give you back a beautiful, life-like smile.
But what if the problems with your teeth are relatively mild — a chipped tooth or a cavity in a highly visible place? Porcelain veneers and bridgework involve extensive tooth preparation that permanently alters the tooth. Is there a less intrusive option that still results in a life-like restoration?
The answer is yes. Composite resins are tooth-colored materials that are bonded directly to tooth surfaces. Made of a plastic-based material matrix with inorganic glass-like filler, composite resins require very little tooth preparation and are often applied in a single visit.
They're an excellent way to address imperfections or defects with an otherwise healthy tooth, while still preserving the majority of its remaining structure. In the hands of a skilled dentist, composite resins can be used to fill, repair and reshape teeth. They're also an ideal choice for younger patients whose dental arches are still in development — restorations that require extensive tooth preparation might compromise the tooth's long-term health. A composite resin treatment could serve as a transitional bridge until a more extensive restoration can be performed after the patient's mouth structure has fully matured.
Composite resins do have some disadvantages. Because the resin material isn't as strong as the tooth structure it replaces (although there have been great improvements in the last few years in resin strength), it may not stand up to biting pressures over time if there isn't enough remaining tooth structure available to support it. They material can also dull and stain with use.
Still, for moderate imperfections or as an interim solution until another restoration can be undertaken, composite resins are a good choice.
If you would like more information on restorations with composite resin, please contact us or schedule an appointment for a consultation. You can also learn more about this topic by reading the Dear Doctor magazine article "Artistic Repair of Front Teeth with Composite Resin."
By Andrew I. Pupkin, D.D.S., P.A.
August 05, 2014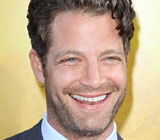 As one of America's most beloved go-to guys for inspiration on the latest interior design trends, Nate Berkus has written a highly successful book, Home Rules: Transform the Place You Live Into a Place You'll Love; he is a contributing editor to O Magazine; and he is currently hosting his own television program, The Nate Berkus Show. He is also recognized for his eye-catching smile.
During a recent interview with Dear Doctor magazine, Berkus opened up about the facts behind his trademark smile. While his smile is all-natural — he never wore braces or had any cosmetic work done — he gives credit to his childhood dentist for the preventative healthcare he received as a young boy. "I'm grateful for having been given fluoride treatments and sealants as a child," he said. Nate also shared the important flossing advice he learned from his dentist that he still follows today: "Floss the ones you want to keep."
Why is flossing so important?
Flossing is crucial because it remains the most effective method for removing plaque from between teeth, where the toothbrush can't reach. It is also an important part of keeping your gums healthy so that you can avoid periodontitis (gum disease). You should floss at least once a day either before or after you brush your teeth. If you see blood after flossing, it may indicate that you have periodontitis, or it may mean that you are flossing too harshly. Remember, you need to use a delicate hand and a proper technique when brushing and flossing to avoid damaging your teeth and gums.
To learn more about flossing, including step-by-step instructions with photos, you can continue reading the Dear Doctor magazine article "Flossing — A Different Approach." Or you can contact us today to schedule an appointment so that we can conduct a thorough examination, review your brushing and flossing techniques, and discuss any questions you have as well as treatment options. As needed, we will work with you to teach you the proper brushing and flossing techniques so that you feel confident before you leave our office. And to read the entire interview with Nate Berkus, please see the Dear Doctor magazine article "Nate Berkus."