Posts for: July, 2014
By Andrew I. Pupkin, D.D.S., P.A.
July 21, 2014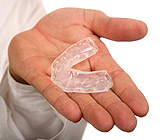 Concussion in athletes is a topic that's getting lots of attention recently — not only in professional leagues, but also at the level of high school, collegiate and amateur sports. Helmets are being increasingly used in both contact and non-contact sports, like skiing and biking. But when you're looking for quality gear that gives you additional protection against head and facial injuries, do you think of getting it at the dental office?
According to some new research, you should. A study published in the journal of the Academy of General Dentistry shows that a custom-made mouthguard, obtained at a dentist's office, is more than twice as effective against mild traumatic brain injures (MTBI) and concussions than the over-the-counter (OTC) mouthguards you can get at a sporting-goods store.
The randomized study followed six different high school football teams, with a total of 412 players. Half were assigned to wear custom-made mouthguards, while the other half used OTC types; all wore the same type of helmets. When the season ended, a total of 24 MBTI/concussion injuries were reported, for an overall rate of 5.8 percent.
But the study revealed that not all mouthguards are created equal: The incidence of concussion for players wearing OTC mouthguards was 8.3 percent, while the group with dentist-provided custom mouthguards had an incidence rate of just 3.6 percent — less than half the rate of the OTC group!
That's a big difference — and there's one more thing to consider: While they can give you additional protection against concussion, mouthguards are primarily designed to protect your teeth from serious injury. It is well established that athletes who wear mouthguards significantly reduce the risk of dental and facial injury. That's why they are recommended by the American Dental Association, and why so many sports leagues and associations require their use at all levels of play.
A custom fabricated mouthguard, made from a model of your own teeth, fits you better than any generic type can; it's also a better investment. The mouthguards we provide last much longer than the "boil-and-bite" or self-molded ones available in sporting-goods stores and big-box retailers. And if it prevents a single serious injury, a custom-made mouthguard can pay for itself many times over — not only in terms of medical bills, but also in time lost from school or work… and on the field, the trail or the slopes.
If you have questions about custom-made athletic mouthguards, please contact us or schedule an appointment for a consultation. You can learn more by reading the Dear Doctor magazine articles "Athletic Mouthguards" and "An Introduction to Sports Injuries & Dentistry."
By Andrew I. Pupkin, D.D.S., P.A.
July 11, 2014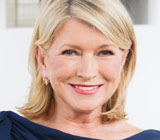 Martha Stewart has built a flourishing career by showcasing the things she's designed and made — like floral arrangements, crafts, and even home renovations. Just recently, she was showing off her latest restoration project: a new dental bridge. In fact, she live-tweeted the procedure from her dentist's office… and she even included pictures of the bridgework before it was placed on her teeth!
OK, it's a departure from paper crafts and home-made pillows… but why not? We can't help feeling that there's just as much craftsmanship — even artistry — in dental bridgework as there is in many other custom-made items. If you learn a little more about what goes into making and placing bridgework, perhaps you'll understand why we feel that way.
Bridgework is one good solution to the problem of missing teeth (another is dental implants). A fixed bridge is anchored to existing teeth on either side of the gap left by missing teeth, and it uses those healthy teeth to support one or more lifelike replacement teeth. How does it work?
Fabricated as a single unit, the bridge consists of one or more crowns (caps) on either end that will be bonded or cemented to the existing teeth, plus a number of prosthetic teeth in the middle. The solid attachment of the crowns to the healthy teeth keeps the bridge in place; they support the artificial teeth in between, and let them function properly in the bite.
Here's where some of the artistry comes in: Every piece of bridgework is custom-made for each individual patient. It matches not only their dental anatomy, but also the shape and shade of their natural teeth. Most bridges are made in dental laboratories from models of an individual's teeth — but some dental offices have their own mini-labs, capable of fabricating quality bridgework quickly and accurately. No matter where they are made, lifelike and perfect-fitting bridges reflect the craftsmanship of skilled lab technicians using high-tech equipment.
Once it is made, bridgework must be properly placed on your teeth. That's another job that requires a combination of art and science — and it's one we're experts at. From creating accurate models of your mouth to making sure the new bridge works well with your bite, we take pride in the work we do… and it shows in your smile.
If you would like more information about dental bridges, please contact us or schedule an appointment for a consultation. You can learn more by reading the Dear Doctor magazine articles "Fixed vs. Removable Bridges" and "Dental Implants vs. Bridgework."